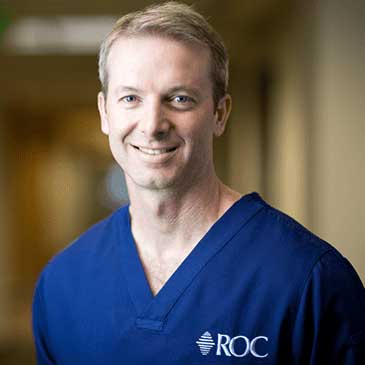 Dr. Huberty is a board-certified orthopedic surgeon specializing in shoulder and upper extremity injuries. He is proud to provide individualized care to patients at ROC in Tualatin and Oregon City, Oregon.
Dr. Huberty received his undergraduate degree from Gonzaga University in Spokane, Washington, and his medical degree from the Creighton University School of Medicine in Omaha, Nebraska. He then completed his orthopedic surgery residency at the University of New Mexico in Albuquerque, New Mexico. In addition, Dr. Huberty completed a shoulder and sports medicine fellowship with one of the world's experts in shoulder arthroscopy and reconstruction, Dr. Stephen S. Burkhart of the San Antonio Orthopedic Group.
Dr. Huberty's specialty interests include treatment of shoulder, upper extremity, hand, and sports-related injuries. At ROC, he takes time to educate patients and informs them about their physical condition so they can make the best decisions about their health. He also thoroughly explains all their treatment options and answers any questions they may have.
Outside of work, Dr. Huberty has a passion for the outdoors and enjoys fly fishing, hunting, and backpacking.
Adult Joint Reconstruction
Total Shoulder Replacement
Val R.
Best shoulder surgeon ever. He was able to get me back to work and playing drums again.
Kerry E.
I could not have been happier with the outcome one year post surgery. However, recently I went kayaking and it struck me how good I feel now - 100% I am so appreciative of the work that Dr. Huberty did.
Mark T.
I have now experienced your surgeries on both of my shoulders. As I have said, you have given back to me every movement of my arms. I have abundant reasons to thank you.
April R.
I wake up every morning overjoyed to do simple tasks that normal people take for granted. You guys are AMAZING!
Greta S.
My experience with ROC & Dr. Huberty truly could not have been better. Dr. Huberty is an outstanding surgeon and a really good guy. ROC is a totally professional outfit.