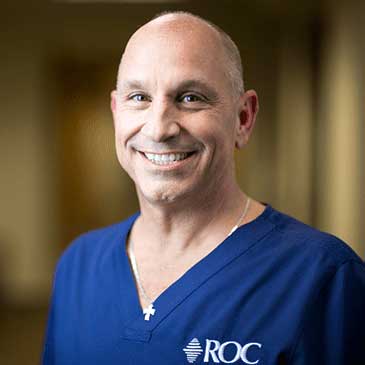 Dr. Sedgewick is a board-certified orthopedic surgeon specializing in arthroscopic and non-invasive treatment of sports medicine injuries. He currently sees patients at ROC in Tualatin and Oregon City, Oregon.
Dr. Sedgewick received his medical degree from the Wayne State University School of Medicine in Detroit, Michigan. He then completed his residency training at Barnes-Jewish Hospital, the teaching hospital for Washington University School of Medicine in St. Louis, Missouri, and his sports medicine fellowship at Lake Tahoe, California.
Prior to joining the team at ROC, Dr. Sedgewick was a former team physician for the US Pro Ski Tour. He has also served as the Chief of Surgery & Medical Staff President of Providence Willamette Falls Medical Center in Oregon City, Oregon.
Dr. Sedgewick has been recognized as a Top Doctor in Oregon City by the International Association of Orthopaedic Surgeons.
Kimberly K.
The results have been amazing. The pain is gone and I have more movement and ROM then I have had in years. Dr. Sedgewick is a wonderful surgeon.
Chris K.
I met Dr. Sedgewick when I had to have emergency surgery. I highly recommend him. I live in Vancouver and I travel 40 mins to keep going to him instead of being transferred to Washington, because I like his personality and how he treats me.