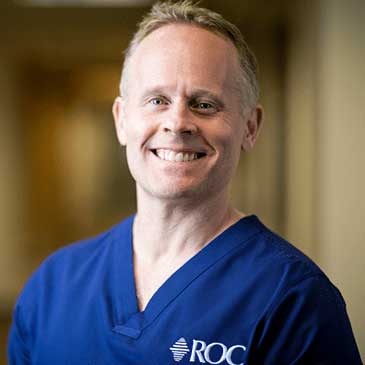 Dr. Ballard is a board-certified orthopedic surgeon specializing in adult joint reconstruction. He is proud to provide dedicated, personalized care to patients at ROC in Tualatin and Oregon City, Oregon.
Dr. Ballard received his medical degree from the Baylor College of Medicine in Houston, Texas. He then completed his internship and residency at the University of Nebraska/Creighton Health Sciences Foundation in Omaha, Nebraska. Dr. Ballard rounded out his training by completing a fellowship with one of the pioneers of minimally invasive total hip replacement at Desert Orthopedic Center in Las Vegas, Nevada.
Dr. Ballard has interests in primary and revision joint replacement of the hip, and he was the first to perform outpatient hip replacement in the Pacific Northwest. In addition, he has been voted one of Portland's Top Doctors by the local medical community and featured by Portland Business Journal and Portland Monthly Magazine.
Adult Joint Reconstruction
Outpatient Joint Replacement
D. Robins
Just got done kayaking and getting ready to go snorkeling near the Arch in Cabo San Lucas, Mx. Thanks to you Dr. Ballard we are traveling again and having fun.
Susan T.
Dr. Ballard was amazing. He listened and showed compassion. My hip replacement recovery was amazing.
Alex. S.
Dr. Ballard changed my life! I was only 37 years old and I can now move like I was 20. Great surgeon and wonderful man!
Debra G.
It's a miracle! Dr. Ballard is an amazing surgeon who gave me the ability to walk again, and so much more!
Bella S.
4 months after Dr. Ballard did a total hip replacement on my right hip, I was able to walk through Rome, Florence, & Venice without any problems.