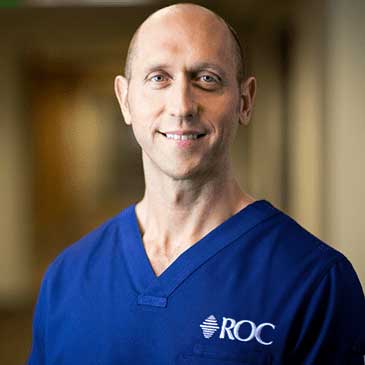 Dr. Hanzlik is a board-certified orthopedic surgeon specializing in sports medicine and hip preservation surgery, including hip arthroscopy and cartilage restoration. He currently sees patients at ROC in Tualatin and Oregon City, Oregon.
Dr. Hanzlik received his medical degree from the University of Nevada in Reno and completed his internship and residency at Case Western Reserve University in Cleveland, Ohio. He then completed a specialized fellowship in arthroscopy and sports medicine at Orthopaedic Research of Virginia in Richmond. While completing his sports medicine fellowship, he studied under Dr. J.W. Thomas Byrd, the father of hip arthroscopy, in Nashville, Tennessee.
At ROC, Dr. Hanzlik's interests include treating injuries of the hip, shoulder, and knee. He always ensures patients understand their conditions and all of their treatment options and only turns to surgery as a last resort.
Dr. Hanzlik was featured in an OregonLive.com article regarding a Portland Trailblazer quadricep injury in 2018.
Adult Joint Reconstruction
Outpatient Joint Replacement
Mills S.
I have the most confidence in Dr. Hanzlik as my surgery was handled in the best way. The staff at ROC have been great from the ladies at the front desk, the x-ray technicians, and assistants, and nurses.
Mike N.
My new shoulder exceeds all my expectations. Dr. Hanzlik gave clear information and instructions and my physical therapist raved about the results of his surgery.
Charlie S.
Doctor Hanzlik has been a truly amazing man to work with. He has such a calming presence about him when talking with you and does a great job to reassure you that everything is going to turn out for the better.